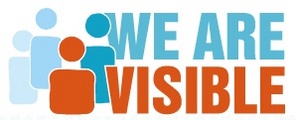 One of the first times I heard about blogs was around 10 years ago. Homeless people were coming into the library where I worked, and were using our public computers to set up blogs to share their experiences.
I thought it was sorta cool at the time – they were WAY ahead of the techie curve! Well, enter WeAreVisible.com – a creation of Invisible People. According to their press release, they have:
"… launched the WeAreVisible.com social media literacy website to help homeless people learn how to use the Internet to tell their stories, build community and connect with support services.
WeAreVisible.com's mission is to give people dealing with poverty and homelessness the tools they need to get online and have a voice. The site teaches them how to sign up for email, open a Twitter account, join Facebook, create a blog and, in general, take advantage of the benefits of online social media. It also has the potential to become a model for virtual case management as it helps build a community among homeless people and support service providers.
WeAreVisible.com is a complement to the InvisiblePeople.tv video blog (vlog), which was launched in 2008 to make the "invisible people" in society more visible. Together, the two sites offer homeless people a unique opportunity to take part in the Internet revolution."
Honestly, the WeAreVisible website has some great, easy-to-use tutorials on how to set up Twitter, facebook, and email accounts – no matter if you're homeless or not. Good stuff.
Mark Horvath, head of Invisible People, is heading up this project, and is reaching out to public libraries … so check out the WeAreVisible website, and connect with them if you're interested in finding out more.